The 18th August 2018 marked the 52nd Anniversary of the Battle of Long Tan now commemorated as Vietnam Veterans Day.
Each year the Eurobodalla Branch of the Vietnam Veterans Federation of Australia hosts a service in Batemans Bay. The service is always well attended by local Veterans, the Vietnamese Community and the Veterans Motorcycle Club. Once again the Navy came to the show providing a catafalque party from HMAS Harman.
This year over 70 members of the Veterans Motorcycle Club representing five chapters: Federal, Southern Tablelands, South Coast, Sydney and Central Coast, attended the service. It was a great sight with so many bikes arriving for the service and parking between the memorial and the ocean.
Following a flyover by an F/A-18 Hornet the service commenced in very windy conditions with a couple of club noms moving up to stop the speakers from blowing over as the local Army Cadets struggled with retaining their headdress.
After a Welcome to Country and prayer from the padre came a speech by Veterans MC Life Member Ron "Dimples" Sheargold. Dimples, a Vietnam Veteran with over thirty years of service in the Navy, spoke from the heart with a speech that many said was one of the best they have ever heard.
Following the hymns, prayers for the fallen, the Ode and singing of the National Anthem the Eurobodalla Vietnam Veterans President Tony Herbert invited us back to the newly refurbished Batemans Bay Soldiers Club for lunch and a few beverages.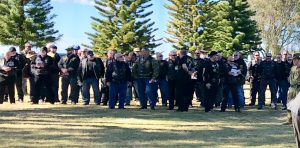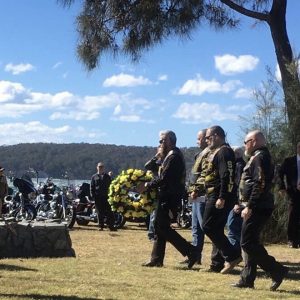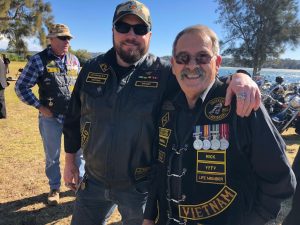 The five chapters of the Veterans MC took the opportunity for a group photo then Federal Chapter President Bones called up chapter nominee Spud where he was made a full member of the club, congratulations brother.
Most of us kicked on around town later with a good crowd of VMC members packing out the Bridgeview Hotel for dinner and an ale or two and to watch the Wallabies embarrass themselves on the big screen.
This is the third time I have done this run, it is well organised, it is a great day and it is important that this day is commemorated, not only for the Vietnam Veterans but also for all Veterans so that the mistakes of the past with the treatment of our returned defence force members are not repeated. I would like to say this is the case but you only need to look into the incidence of suicide and self-harm the protests against DVA and the hundreds if not thousands of support groups that have started up to fill the void that has been left by our government. I am encouraged by some of the initiatives that have recently come from the government, particularly in the area of mental health support and Veteran employment; the noise that Veterans groups have been making may be finally being listened to.
"Never again shall one group of Veterans abandon another"
Mork
VFFV