Like most clubs the various chapters of the Veterans MC have Memorial Rides for Fallen Brothers. This year several chapters from around NSW decided to combine these rides and commemorate not only those from the Veterans MC who are no longer with us but also those that gave their lives in service to our country.
On Saturday September 15 2018 members from Veterans MC Federal, Southern Tablelands, South Coast, Sydney and Central Coast Chapters all gathered in Goulburn North to ride via Crookwell to Grabben Gullen for an afternoon/evening of catching up, commemorating and knocking back a few bevvies. For most of us the ride to the meet-up point was actually longer than the ride to the pub from Goulburn, but this leg was done with over 70 bikes. We were not the only show in town either with the boys in blue passing through on their annual Wall to Wall Remembrance Ride and various others on their way to the Wombat Rally.
It was a fairly warm and clear day but there was a wind around 65kmh blowing as was evidenced by the large dead tree that came crashing down alongside the road just before we took off from the meet up point. It was a good ride with a pretty tight formation on some reasonable roads which we made short work of before pulling up at the hall right next door to the Albion Hotel in Grabben Gullen. Some pitched tents and others like me threw a bed roll down in the hall, all done pretty quickly because there was a beer with my name on it less than fifty yards away.
If you haven't been there before, Grabben Gullen is a dot on the map but the pub is great. Bike and car clubs are welcome the staff are friendly, there is pretty good pub fare and this time of year there were several fires burning to take the chill out of the air. There is also plenty of memorabilia around the walls plus two Triumphs – a Bonneville and a Thruxton – and a couple of pit bikes. The trumpys are absolutely pristine and well worth the trip.
At 1900 everyone went silent as we all faced west as the Ode was spoken and glasses were raised to the fallen. There was also a special toast for Blacky's wife who had only passed away this week.
Most kicked on well into the night, I really don't know how long for as there were still plenty imbibing as I snuck off. I probably should have had a few ports to end as it was pretty cold night with the mercury going to zero and an apparent temperature around minus five. The iced up Ultra seat in the pictures is mine taken at about 0800 just before we wandered back to the pub for some hot coffee and breakfast.
After breakfast the chapters said their goodbyes and headed back to their homes. Everyone I spoke to agreed it was a great idea and there is a better than even chance this was the Inaugural of what will be an annual event in NSW. I certainly hope so.
Lest We Forget.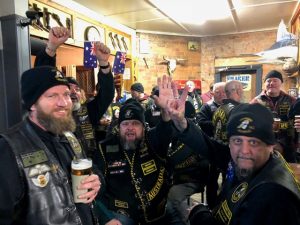 Mork
VFFV.