In the last 10 years we have been able to donate, because of your support, over $200,000 to those in need. The Federal Chapter of the Veterans Motorcycle Club would like to thank all of our sponsors, past and present.
It's been a tough few years over for all. We are pleased to announce that we are back for 2023 and we would like to thank the following Sponsors for their ongoing support.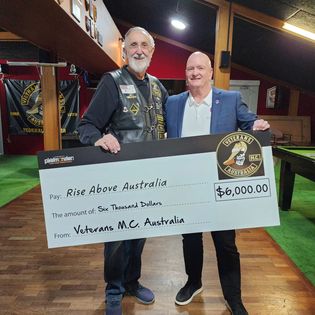 Please note the images below are NOT clickable, if you wish to visit our Sponsors websites (where available) please simply click on that Sponsors name which appears above the image.
If you would like to know anything about the benefits of Sponsorship or indeed would like to contact us offering sponsorship please complete and submit the Contact Us form which can be found here.
Platinum Sponsors
https://www.haspecialists.com.au/
https://exman.online/
Mr Frank Hackney
Mrs Wendy Burton
https://www.thetradies.com.au/
Gold Sponsors
https://www.facebook.com/SupabarnExpressKaleen/
https://www.exquisitejewellers.com.au/
BLINKY
Wodunna Mob
https://www.facebook.com/BoogiemanRacingPowersports
http://www.blackpupmoto.com.au/
https://blackmax.com.au/index.php
https://tuggeranongmotorcyclecentre.com.au/
https://joesbootskingston.com/
Capital Tools Sales and Services
https://www.facebook.com/TuggeranongHomeImprovements/
Bronze Sponsors
On Cue
DING