Dr. Brendan Nelson has been the Director of the Australian War Memorial since December 2012 and a passionate advocate of Veterans for much longer. When his appointment as the Director of the War Memorial was announced Dr. Nelson was in Afghanistan. While speaking with a soldier over there he was asked "why can I take my son to the Memorial and show him what his grandfather did but I cannot show him what I am doing". Apparently on his first day this was taken to task by the good Dr. and eight months later the Afghanistan Story was opened and a new era of moving forward started at the Memorial.
There are many critics of the expansion of the Memorial however the lack of space for contemporary and recent conflicts is a wrong that is going to be righted. Stories of Rwanda, Iraq, Cambodia, East Timor, Somalia and the others that currently sit in a space half the size of a 7-11 will get their place. To quote the Director, "we are not going to cannibalise the World War 1 gallery to do it". All the stories to be told need to be connected to the Hall of Memory and the Tomb of the Unknown Australian Soldier so the expansion is necessary.
Dr. Nelson has been a staunch supporter of the Veterans Motorcycle club. As a part of the After the War Exhibition two Vietnam Veterans MC sets of colours were on display for over a year. When the launch of the War Memorial plans were announced at the Great Hall of Parliament House six members were in the Hall, wearing colours and rubbing shoulders with the PM, Kerry Stokes, Ben Roberts-Smith VC MG and particularly important people like Janny and Hugh Poate and Doug Baird. We were seen as stakeholders in the Memorial.
For the 100th Anniversary of Armistice in 2018 the Veterans Motorcycle Club did a run from all over Australia to be there. It was a significant day with around 180 members attending. The Memorial organised for over 150 bikes to be parked in Campbell High School adjacent to the Memorial, it was an impressive sight.
Dr. Brendan Nelson finishes his tenure as the Director this December after 7 years in the job. As a gesture of our appreciation members of the Federal Chapter of the Veterans MC attended the Last Post Ceremony on the 10th December to make a presentation. Fittingly this particular Last Post Ceremony for was for a Vietnam Veteran, Lt. John William Wheeler. The video of the ceremony can be seen at this link:
VMC Federal President Bones and Vice President Agent laid a wreath at the ceremony and following that the club members presented Dr. Nelson with a memento in appreciation of his support. It was a surprise for the Director and he was very gracious and humble in receiving the gift. It was our pleasure sir.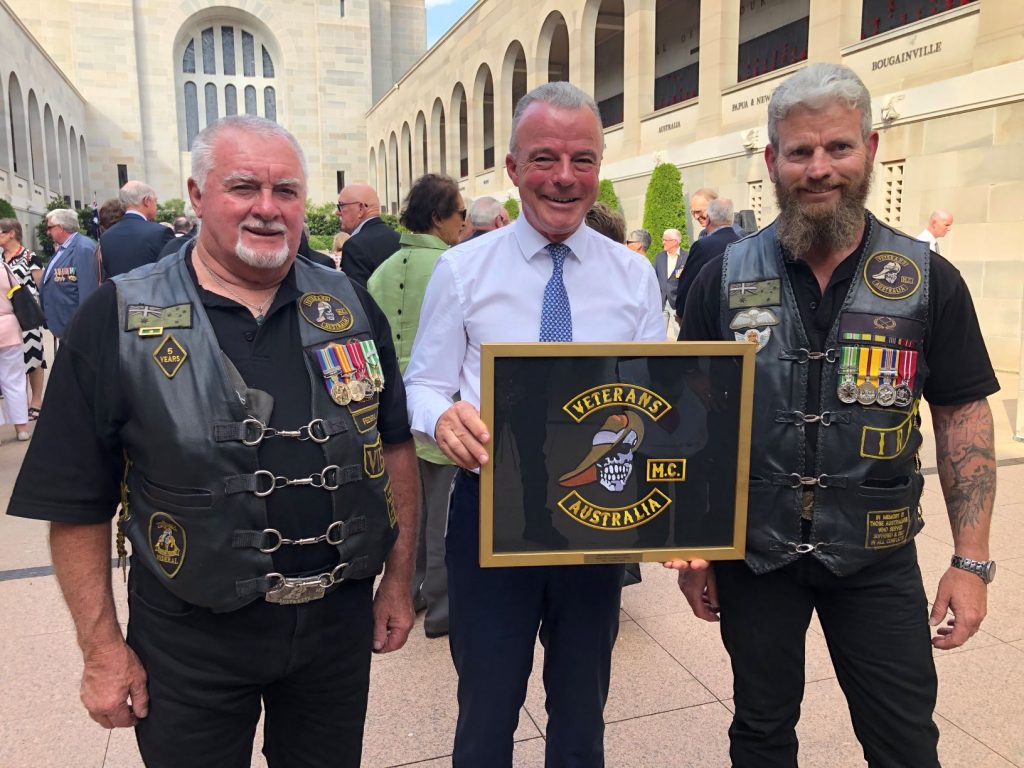 These are some big shoes to fill.
Mork